I've got a fever and the only perscription is retail therapy.
That's what I posted to my Facebook page this morning because the past two weeks have been busy, stressful and sleep-deprived, so I thought I'd treat myself to a short little visit to the mall. And some friends – who obviously know me and my savvy sale shopper ways – responded to my message on Facebook with various sales all over the city I need to check out. I thought I'd post a new blog to share the good news in case you're out getting in a little retail therapy this weekend, too!
Shoetopia
Shoetopia announced that it will be closing its Northside retail store at the end of October. To clear the shelves, Jessica (the owner), is offering some huge discounts. Here's a message she just posted to the Shoetopia Facebook Fan Page: "J-41 and Tsubo Fall shoes are now 25% off, Faryl Robin shoes are $100 off, and all summer shoes are 70% off."
And just six hours ago, she posted this: "Wow, you are all so amazing! We're almost out of Tsubo's and J-41's after only 2 days! It's been so busy that I haven't been able to keep our website updated, so if you want to know if your size is still here just stop in, we'll be here all day until 8pm."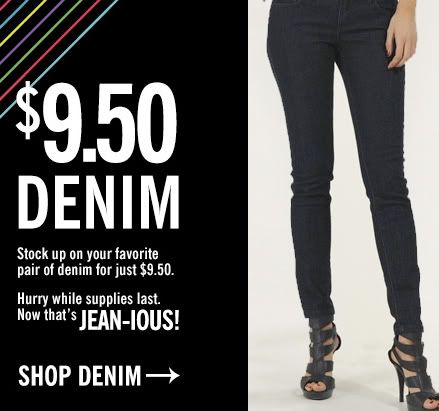 So, all my sole sistas out there better hurry while the gettin's good.
Forever 21
It's jean season again, ladies, so stock up with Forever 21's newly released $9.50 denim.
I used to loathe this store, so I understand if you're questioning my sanity for shopping at Forever 21. It's crowded, unorganized, the clothes are cheaply made, don't last long, aren't made for girls with curves and and their return policy stinks.
That being said, I consistently get compliments whenever I wear something from Forever 21. I used to think it was just for teeny-boppers, but I've actually found some of my favorite clothes – for work and play – at Forever 21. Plus I've found some things absolutely identical to items I've seen at Saks, Nordstrom and even Cabi parties.
Sure, they won't last as long as the expensive designer versions, but do fashion fads ever last that long anyway?
ADIDAS
All Day I Dream About Sales… That's probably not what Adidas really means, but this weekend it does! The annual Adidas Tent Sale is taking place at the Turfway parking lot now through October  12 with blowout prices up to 75% off! Hours: Friday-Sunday: 9am to 7pm. Monday: 9am to 5pm.
The Little Luxury Shop
While I've never personally shopped at The Little Luxury Shop, it is based here locally, I do see it advertised everywhere and I'm on their mailing list. I just got an e-mail saying they're doing 35% off right now if you use the code "luxury35" and that's good until Oct. 31. The Web site
says it's a bikini and dress boutique. Their Little Black Dress section has some super cute stuff in it and some of their handbags are pretty yummy too.
Your Sale is in the Tote Bag
The Wardrobe in Madeira started "Tote Bag Tuesday" this month. Here's the deal: Buy a $3 reusable tote bag and get 10% off your entire purchase. It's only on the first Tuesday of every month, so mark your calendar for Nov. 3.
And on that bag-related note, also mark your calendar for November 27. It's the annual "Holidays in the Bag" at the Gateway Quarter (aka Over-the-Rhine) retailers. Participating stores will offer 20% off everything customers can fit into a special Gateway Quarter shopping bag from 9am-9pm!  Proceeds benefit the Emanuel Community Center. Pick up your bag at the corner of 12th and Vine Streets and spend the day shopping for gifts in the one-of-a-kind, locally owned stores that line the Gateway Quarter.