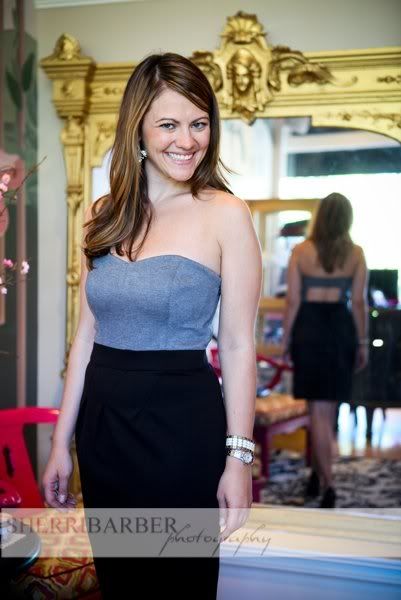 I love it when I can get a taste of big-city life without leaving the comfort of my hometown. And every time I step into Soho Boutique in Hyde Park, I feel that way… from the off-the-beaten path boutique location and hand-painted stairs into the boutique, to the floor-to-ceiling gold encrusted mirror and daily changing floor displays. I absolutely love it.
Amy Maynard, the new owner of Soho, and I have become good friends since she purchased the boutique this summer. She is so friendly and down-to-earth, but the girl knows what she's talking about when it comes to fashion. Especially fashion for the local lady (let's be honest, not everything on the runway looks right at Skyline).
One of the best perks of her job is that she gets to write off her trips to Soho for "research and development." (smart girl!) : ) She just got back from one of these trip to the Big Apple. That got my wheels turning on how my Cincy Chic readers can learn from experts like her. I came up with this concept where we can build off our popular lunch 'n' learn idea (where once a month we bring in one expert and invite our readers to enjoy lunch and learn about the topic for free), but this time bring in several experts from several industries to talk about trends in their specific niches.
So, on Nov. 20 from 12-1 at the Chamber of Commerce downtown (3rd floor of Carew Tower) we will have Amy from Soho Boutique talking about clothing trends, Rick Fehr from Richter & Phillips talking about jewelry and Rhonda from Missy & Jack talking about scarves and pashminas. From 1-2, there will be a trunk show where you can snag any of the items you just learned about! It's free to attend and it includes a free boxed lunch. But we can only let the first 80 RSVPs in, so reserve your spot quickly! Send an e-mail to RSVP@cincychic.com or call (513) 721-2445 if you're interested in attending! Hope to see you there! : )
Check out the video below where Amy from Soho gives you a sneak peek into a few of the biggest trends she'll be talking about on Friday!
[HTML6]