This month has been one for the records. It all started two weeks ago when, on my morning jog, I was literally hit by a pick-up truck. The driver didn't see me when I crossed the street – luckily only resulting in some bumps and bruises. A week later, our upstairs toilet malfunctioned, overflowed, kept running and poured water throughout three stories of our home while we slept. We are now in the process of tearing out one bathroom and repairing the other two floors (yay home ownership). And the third in this terrific trifecta happened last week when my Grandma took a serious tumble and is now left with two black eyes – what she is affectionately calling her "broken face."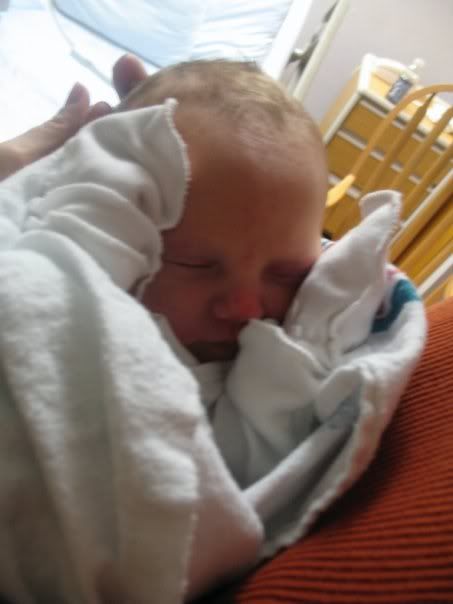 But, in the spirit of Thanksgiving, I'm trying to see the positive in all of this. The truck incident will make me more aware of my surroundings when I run (and look both ways 18 times before crossing!), the bathroom issue is actually resulting in a brand new bathroom (we were planning to repair anyway) on our insurance's dime, and the third gave me the excuse to bring my Grandma lunch today to make her feel better.
Someone once told me "You can tell a lot about a person by the way they handle three things: a rainy day, lost luggage and tangled Christmas tree lights" and it's so true. While none of those things happened to me, I experienced my own variation. And now, instead of being sad they happened, I'm actually…. thankful.
I have another thing to be thankful for, too. I'm officially "Aunt Amy"! My brother and his wife, Erin, had a beautiful baby girl named Sara Paige last Monday night. She's beautiful and perfect and I love her so much already.
Maybe the new addition to the family got me in the giving spirit, or maybe I just love shopping, but I'm almost completely done with my holiday shopping! I wish I could tell you what I purchased, but my friends and family frequent this blog too much for me to not let the cat out of the bag.
All I'm going to say is that I'm completely in love with Stop Traffick Fashion. A local woman (with a fabulous fashion sense) started an online shopping site where you can get the latest and greatest handbags, jewelry and skin care, and proceeds benefit victims of human trafficking.
Click here to check out an upcoming shopping event they're having at The McAlpin downtown on 4th St on Dec. 5. She has some gorgeous products, and they look even better in person, so I highly recommend you come to this event!
But there's lots of goodies to gobble up in the meantime with all the price-slashing going on this Friday! Below are my top picks for the Tri-State's best Black Friday Sales!
Black Friday Sale at Missy & Jack!
Friday November 27, 8 a.m.-8 p.m.
Take 25% OFF the entire store! Enjoy pastries and apple spritzers all day long while you shop and check out their latest collections, which include: Citizens of Humanity, LA MADE, Hudson Jeans, Michael Stars, Paige Denim
Missy & Jack
5861 Deerfield Blvd. Mason, Ohio 45040
(513) 770-0512
www.missyandjack.com
______________
obsess boutique – 20% off!
At obsess boutique, mention "Cincy Chic" and save 20% off retail on any item! Sale ends Nov. 27! Click here to see a recent fashion show we did with obsess boutique clothing and Stop Traffick handbags!
obsess boutique
9393 Montgomery Road
Montgomery, Ohio 45242
(513) 793-4777
www.obsessboutique.com
______________
Cincy Designer Shoes Holiday Sale
Tuesday, November 24th, 2009 – Sunday, November 29th, 2009
Cincy Designer Shoes is having one heck of a holiday sale. More than 40% of its inventory has been reduced 15-35%. In addition to those mark downs, they're offering an additional 15% off this week only! While you're there, register to win a free pair of Dezario Boots!
Cincy Designer Shoes
2717 Erie Avenue
Cincinnati, OH 45208
(513) 321-1924
www.cincyshoes.com
______________
La Silhouette Lingerie – Anniversary Sale
This isn't a Black Friday sale, but it's a sale nonetheless. La Silhouette is celebrating two years in the Tri-State! To celebrate, they're offering 20% off today through December 5, 2009 on non-sale merchandise.
La Silhouette carries the world's top lingerie brands like: Bagley Mischka, Betsey Johnson, Cass and Co., Chantelle, Cosabella, Elle Macpherson, Feraud, Foxers, Hanky Panky, Huit, Jane Woolrich, La Perla, Millesia, Natori, Oscar de la Renta, Prima Donna, Simone Perele, Verena, and Wolford.
La Silhouette Lingerie
6914 Miami Ave., Madeira, OH 45243
(513) 272-8100
www.lasilhouettelingerie.com
______________
Richter and Phillips Second Annual Watch Trunk Show
Want to get the man in your life a timeless holiday gift this year? Skip the Black Friday rush and head to Richter and Phillips second annual Watch Trunk Show will on Friday December 4th from 9 a.m. to 5p.m. and Saturday December 5th from 10 a.m. to 5p.m. Special pricing on all Major Swiss Watch Brands Omega, Tag Heuer, Tissot, Rado, Movado, Michele, Philip Stein, Hamilton and others.
Richter & Phillips
202 East Sixth Street
Cincinnati, OH 45202
(513) 241-3510
www.richterphillips.com
_____
And while we're on the subject of Thanksgiving, and giving thanks, please stop by this page to share your thoughts on what makes you thankful this year.
To check out more Black Friday deals, click here!