My husband had me at "doh!"
That's right, my husband wooed me with a Homer Simpson impersonation. When I met my now-husband, Pete Scalia, he was a traveling musician and voice-over artist. Today, he is the morning anchor at Fox 45/ABC 22 in Dayton, but he still does music and voice-overs on the side.
A few months ago, Nancy Cartwright, the voice of Bart Simpson (who is originally from the Dayton area), came back to her hometown and Pete got to do an interview with her. They became fast friends, and before he knew it, she was asking him to do "theater of the mind" performances to raise money for charity. He did one recently in Dayton and he has one coming up this week in LA.
We are so excited! Pete has a performance this week in LA with a superstar (literally) cast mates, who include: Robert Towers ("Curious Case of Benjamin Button," Benjamin 1932-1934), Nancy Cartwright (voice of Bart Simpson), Phil Proctor (Big Brother, Rugrats, Finding Nemo, and Princess and the Frog), Josh Robert Thompson (voice of "Fake" Arnold Schwarzenegger on "Late Late Show With Craig Ferguson") and narrated by R.F. Daley (Broadway actor "Cats" and "Sweeny Todd").
The event will take place at the Golden Age Theater on Hollywood Blvd, which requires "theater attire." And afterward, Nancy invited us to dinner at her house. Talk about a big night for us!
Cheering on my talented husband as he plays the LEAD character (!!!), rubbing elbows with a "Curious Case of Benjamin Button" cast member (aka one degree away from Brad Pitt), and eating dinner at Bart Simpson's house. Who does that? And more importantly, what do you wear to that?
I peered into my closet and asked each piece if they could rise to this fine occasion. Each one sagged with unworthiness as they shook their cowl, turtle and v-necks in disappointment. I came to the conclusion that I need to splurge (I actually haven't been shopping in a couple months!), and buy a special outfit for this star spangled night in the Hollywood hills.
I visited my favorite local experts, boutiques and stores, and came up with this ensemble that twinkles with gold, glitz and glamor. Most were splurge pieces, but my focal point dress was a steal of a deal. What do you think?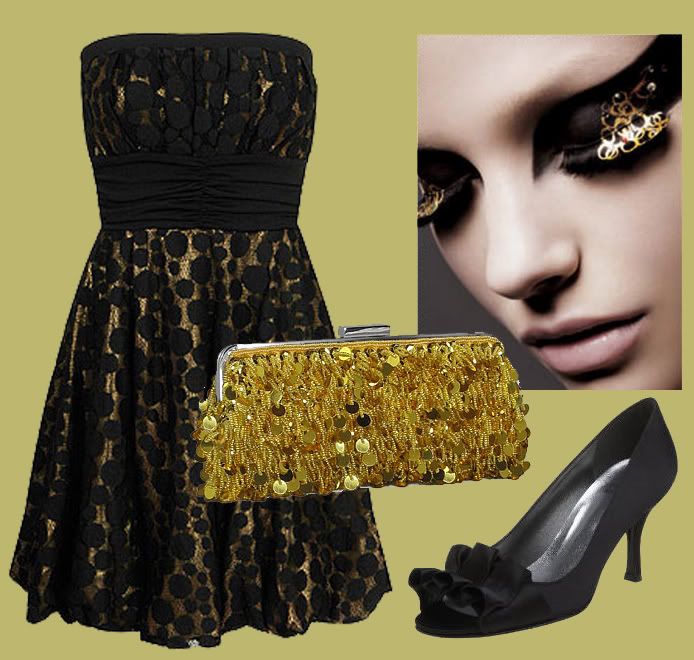 Dotted Lace Strapless Dress ($27.80, Forever 21)
shu uemura gold leaf shadow & lashes ($79, Sephora)
Stuart Weitzman black ruffle pumps ($179, Cincy Designer Shoes)
Gold BCBG Maxazria Sequined Evening Clutch Purse ($98, BCBG)