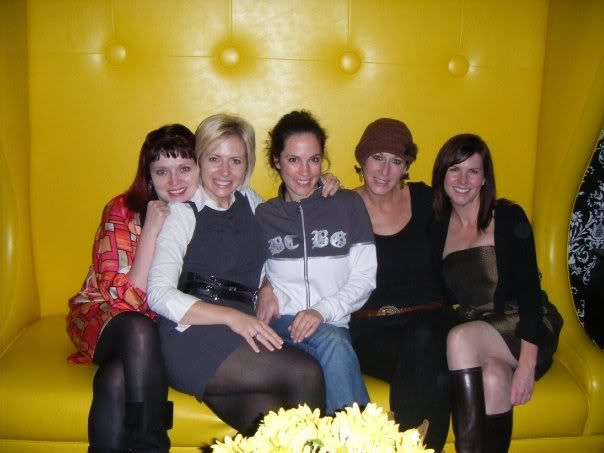 When I asked the owner of the new FB's bar downtown what "FB" stood for, he just smiled and said "whatever you want it to stand for."
I was intrigued with the ambiguity and creativity. But I couldn't come up with anything fitting. The first thing that came to my mind was Facebook,  because we shorthand "FB" for Facebook at work all…the…time. So, I asked some of my Twitter friends what they thought. My favorite ideas were from @begleyh who suggested Fancy Boots, Funny Bones and Falling Boobs. : )
Falling boobs or not – whatever it stands for, I think it's a fun concept, and it adds a little character and spontaneity to Cincinnati's bar scene. Another thing I like about FB's is their Alice in Wonderland "with a Twist" atmosphere. Remember the Twist Lounge that was next to Pigalls? I loved that place. I loved the feel of the space and the mix of people. There were people of all ages there, and everyone got dressed up to go. I liked that and I couldn't find it again after it closed.
Even though Twist reopened as Tonic – and I do really like Tonic – it just feels different. They now serve food there (which changes the atmosphere), they added more furniture (which changes the flow), and a bunch of other things changed like the music/clientele/drinks/etc. I like it, but it's different than before.
I found out this new place called FB's would be opening up and I heard they wanted to attract the Twist demographic. That caught my attention. Then I saw the space. It's fantastic. Bold patterned wall paper, over-sized furniture, and a funky color scheme. There are some hints of Mad Hatter/Alice in Wonderland inspirations speckled throughout and I think that's fun to look around and pick those out. Like a blue old fashioned telephone on a coffee table, a huge yellow chair, and a checkerboard table in the middle of the lounge.
The main floor is a cocktail lounge that caters to the casually upscale (not snooty or hoity toity at all). Downstairs, aka the "Rabbit Hole," is a nightclub on weekends (not my scene). Anyone can get in the nightclub or on the main floor, but only those on "the list" can get upstairs. I've never been on this mysterious list, so I don't know what it's like up there. But I do really, really like the main floor. It fits the bill for what I was looking for in a sophisticated but not stuffy, refined but relaxed downtown happy hour hangout.
I especially liked the crowd – very urban chic. I talked to a couple in their mid-40s. He had just moved from NYC and got a job here in the arts. She was a dental hygienist on the West Side. They live downtown.
I also talked to a few other YPs, ranging from 25-45ish, who lived in the suburbs and were there for our friend Monika's birthday party. It's a very suburb-friendly place because there's a $1 for 2 hours lot literally 10 steps away, right across the street, from FB's.
You do have to know where you're going though. The owners want the place to be discreet and only be known by those who need to know about it. On the upside, there aren't cheesy neon signs flashing outside. On the downside, that means you need to get your eagle eyes out to spot it. For future reference, it's at 126 W. 6th Street, about 50 yards down from Walgreens.
One of the cool things I suggest you splurge on is their "TSM" service. It's tableside mixology, which means you essentially get a private bar and tender for an evening. This isn't the "table service" which basically means they slop a couple bottles of booze on your table and say "make it yourself" but charge you out the wazoo for it. TSM is a great way to get the attention you want and need for a special night out without fighting a crowd or wasting time waiting in line at a bar.
The owners said they're going to have an incredible New Year's Eve party there. I didn't get many details because I will be out of town, but I hear it is sponsored by a huge champagne company and will be tres tres chic. Sounds like a place we'd definitely be if we were in town (I'll be in a Gatlinburg cabin with my hubby and puppy though!). If you're interested, I'm sure you can call FB's and get more info.
And just because I'm on a makeup kick this week, I'll throw in a little NYE makeup trend to end this post since we're on the topic of the big ball-dropping night (already, seriously, can you believe it's almost 2010?!). So, here's my prediction…. EYELASHES. The funkier the better. Feathers, sparkles and lace (yes, even lace). The more elaborate the better. Make them too lush to be true. Here's some inspiration for your FBs (Fake Blinkers)! : )

Images courtesy of Robot Nine