I'm going to tell you a little story about my friend, Renie. She's known as the chameleon of the crowd because she whimsically adapts and changes her look on a weekly if not daily basis.
I'm not talking just going curly versus straight. She goes curly, straight, long, short, wig, red, blonde, brunette… and my personal favorite… the phony pony.
Well, in the Fall last year she fell victim to a very very bad hair cut. Her bangs were literally little spikes, and it looked like a 4-year-old with scissors took to the back of her hair. It was baaaad.
Hair has always been very important to Renie. So this devastated her. She's been trying like heck to grow her hair back, but it's been growing slower than molasses. Lately, she would either just wear hats, a wig, her phony pony (clip-on pony tail), or slick it all back. I could tell that none of these made her feel 100% and it was really affecting her self esteem.
Well, about a month ago, I went to Perfections in Montgomery to a hair extension 101 event where people could learn about extensions, how they're applied and maintained. I went to learn about it for me (I decided I would look best with short hair). But the whole time I kept thinking how perfect it would be for Renie!
I suggested she get the extensions so she doesn't have to wait for her hair to grow out to get her confidence back. So, she went and checked it out, learned more about them and decided to get them. Angie, the stylist that applies the extensions, suggested that she do an angled bob cut so she gets a few extra inches in front to give her the length around the face she's used to, but she doesn't have to pay to have a full head of extensions put on.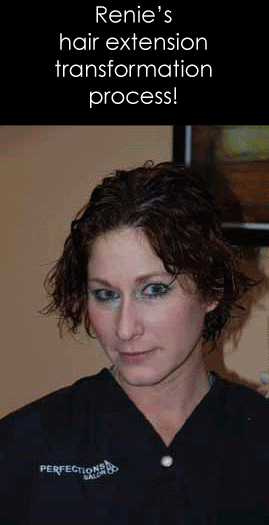 So, they put on about 50 strands (versus the 100 they would put on someone who wanted a full head of extensions). After they put in her extensions, it looked so funny – kind of like a reverse mullet. But Kenneth, the owner, is famous for his dry cutting. He quickly turned that mullet into one marvelous angled bob cut.
He was going blow it out and straighten it, but Renie said she usually wets her hair, scrunches and goes to work, so he did that instead. The extensions are made of real hair from Europe and you can choose from curly, "beach wave," or straight hair. Renie picked the beach wave so she can have the flexibility to straighten or scrunch without having to fight to make it work.
These extensions will help give the allusion of longer hair until Renie grows her own hair to this length. Kenneth suggested a couple ways to help grow hair faster: Prenatal vitamins and massaging the scalp with dry hair every day. See the video below for a demonstration.
The extensions were $11 per strand and she got 50 strands in. Plus, she got color and a glossing, and Kenneth's dry cut is $65. This all ended up being about $700 total. And the maintenance, which she'll need in about 5 weeks will be $120. But, as Renie said, it's a small price to pay to get her confidence back.
Renie said she is so glad she did it and loves her new hair. She said it looks and feels like real hair and she's already gotten lots of compliments on her new look. People have no clue they're extensions. She said next time when she goes in, she wants to get a few strands of blonde and maybe even a little purple for a streaking effect.


There are a few things anyone with extensions needs to be careful about:
No brushing your hair from scalp to tip. Because the hair is attached at the scalp, you could accidentally rip out your real hair and extension if you brush it like you would normal hair. What you need to do is hold your hair in a pony tail and brush the ends.
No Redken products. Angie said there's too much protein in this particular product and it will ruin the extensions.
Don't go to bed with wet hair. Angie said this is bad for your hair regardless of if you have extensions, but it's especially bad for anyone with them.
I'll be going with Renie to document her first maintenance appointment in five weeks to see how that's done. So, stay tuned for that. And in a few months when her hair has grown out, I'll be checking in with her to see if she will be taking them out! Who knows with this chameleon cutie what she'll want to do next! : )
Check out the video below to see the entire process unfold from start to finish!
[HTML2]