Even though NYC is under several inches of snow this week, Fall season is in full force. That's because it's the ever-exciting, always glamorous, and heart flutteringly fabulous Fashion Week!
I've had my finger on the pulse of the new trends strutting the catwalk, and three big ones emerged: sheer, metallics and trendy basics.
Granted, I'm not there, but I sense that this year is unmistakably subdued. Not only are fashion houses struggling to innovate, create and prosper in a strangling recession, but the industry lost an icon with Alexander McQueen passing on the first day of Fashion Week. Both are weighing heavy on the hearts of everyone in the fashion industry and beyond right now.
But as they say… the show must go on. And that it is…
Like I said, three trends have surfaced thus far: sheer, metallics and trendy basics. I think they are all somewhat related to the recession. The sheer is minimalistic. Trendy basics offer a classic, long-lasting value. Metallics, which I thought they were on their way out, have made a quick resurgence. Maybe it's the high price of gold these days? : )
Here are my Fashion Week CliffsNotes for the big three trends. I'll check back in later in the week with updates. (And while we're on the topic of fashion week, get excited because Cincinnati will soon have one of our own! Learn more here)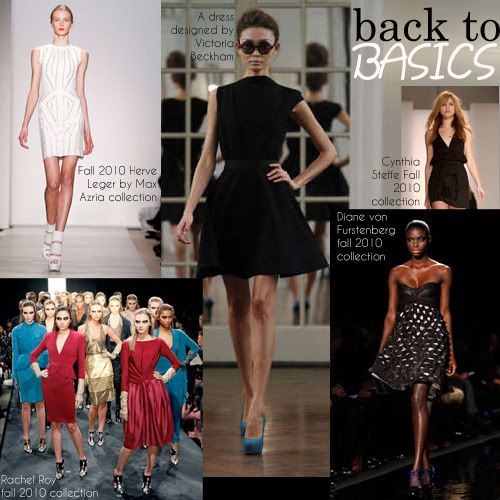 PHOTO CREDITS
Back to Basics
(starting in top left)
A model presents a creation from the Fall 2010 Herve Leger by Max Azria collection during New York Fashion Week February 14, 2010. (REUTERS)
A dress designed by Victoria Beckham is modeled at a fashion show during Fashion Week in New York, Sunday, Feb. 14, 2010. (THE ASSOCIATED PRESS)
A model presents a creation from the Cynthia Steffe Fall 2010 collection during New York Fashion Week February 12, 2010. (REUTERS)
The Diane von Furstenberg fall 2010 collection is modeled Sunday, Feb. 14, 2010, during Fashion Week in New York. (THE ASSOCIATED PRESS)
The Rachel Roy fall 2010 collection is modeled, Sunday, Feb. 14, 2010, during Fashion Week in New York. (THE ASSOCIATED PRESS)
Heavy Metallics
(left to right)
Kelly Osbourne walks the runway during a "Fashion For Relief – Haiti" benefit show during Fall 2010 New York Fashion Week February 12, 2010. (REUTERS)
A model presents a creation at the Erin Fetherston Fall 2010 collection during New York Fashion Week February 14, 2010. (REUTERS)
A model presents a creation at the Diane von Furstenberg Fall 2010 collection during New York Fashion Week February 14, 2010. (REUTERS)
The Luca Luca fall 2010 collection is modeled Sunday, Feb. 14, 2010, during Fashion Week in New York. (THE ASSOCIATED PRESS)
Sheer Genius
(starting in top left)
The Prabal Gurung fall 2010 collection is modeled, Saturday, Feb. 13, 2010, during Fashion Week in New York. (THE ASSOCIATED PRESS)
The Rachel Roy fall 2010 collection is modeled, Sunday, Feb. 14, 2010, during Fashion Week in New York. (THE ASSOCIATED PRESS)
A model presents a creation at the Project Runway Fall 2010 collection during New York Fashion Week February 12, 2010. (REUTERS)
The fall 2010 collection of Zac Posen is presented during Mercedes-Benz Fashion Week, in New York, Monday, Feb. 15, 2010. (THE ASSOCIATED PRESS)
A model presents a creation from the Vassilios Kostetsos Fall 2010 collection during New York Fashion Week February 14, 2010. (REUTERS)