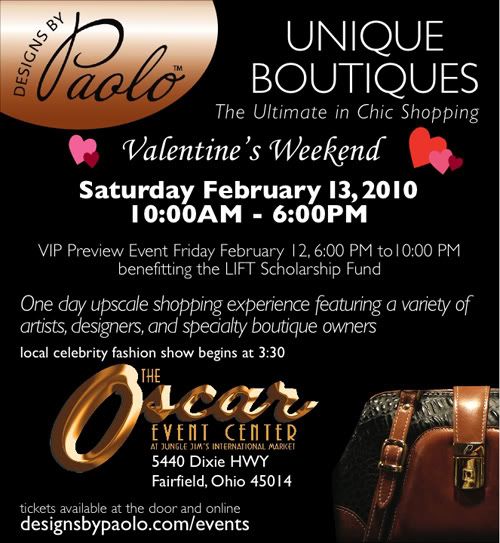 Unique Boutique Shopping Event
Get ready for the big night with lots of shopping, sipping, fashion and fun. This "Unique Boutiques…The Ultimate in Chic Shopping" event is great for a girls day out or a date day out with your man.
WHEN:
February 13, 2010
10:00am – 6:00pm
WHERE:
Oscar Event Center (Above Jungle Jim's International Market)
5440 Dixie Hwy.
Fairfield, OH 45014
WHY:
Designs by Paolo will be presenting their 2nd annual, high-end boutique shopping experience in the Cincinnati area on Saturday February 13, 2010. We have tagged this exclusive one day event: Unique Boutiques…The Ultimate in Chic Shopping. A variety of artists, designers and specialty boutique owners from all over, will showcase their distinctive product lines at this event. There will be a cigar area for the boys, so feel free to bring your man and make a day of it!
This festive gathering is anticipated to warm up the winter and be the highlight of the Valentine gift season for both men and women.
Ticket Price: General admission $10.00 / VIP Level $20.00
Website to Buy Ticket: www.designsbypaola.com/events
* The Prelude to Unique Boutiques is Friday February 12, 2010.  From 6:00pm-10:00pm. Unique Boutiques VIP Preview Event to benefit the LIFT Scholarship Fund.  Tickets are $85.00 and only 400 tickets are available.
_____________
Pure Romance Warehouse Sale
Pure Romance Parties may be for ladies only, but the Pure Romance Warehouse Sale is for everyone! Go with your hubby and pick out some fun you both can enjoy! They only do this once a year!
Friday, February 5th – Sunday, February 14th
SHOPPING HOURS
10:00 AM – 8:00 PM
LOCATION
161 Commerce Blvd
Loveland, OH 45140
_____________
Valentine's Week Sale and Party at Obsess
On Thursday Feb. 11, 3-7pm, Enjoy complimentary drinks, treats and chances to win numerous door prizes. All week long, every guest will get one drawing from our heart discount bowl. Heart discounts are from 10-50% off retail price on your entire purchase! Drop by, have some fun and get a great deal on that special Valentine's Day outfit! Sale is going on now through Sunday Feb. 14.
9393 Montgomery Road Cincinnati, OH 45242-7725 – (513) 793-4777
www.obsessboutique.com
_____________
Get Lingerie – A Gift You'll Both Enjoy!
Gifts that disappear are so last year! Flowers and candy are here for a moment and then gone! But you can never have enough of: Love, more love, lacey silky nighties, panties and bras.
Drop a hint. Leave little notes around. Circle the calendar dates. Help your love find you what you really, really want this year from La Silhouette.
Mention "Cincy Chic" and get a free bra for every five bras purchased
and 35% off one bra of your choice.
www.lasilhouettelingerie.com
6914 Miami Avenue
Cincinnati, OH 45243
(513) 272-8100
_____________
Femme Fatale Fashion Show
Feb. 12, 6-7:30pm at FBs downtown (126 W. 6th St.)
Followed by the after-party 8pm-2am
La Silhouette and Le Poison Productions are hosting a lingerie fashion show at FB's this Friday. I love La Silhouette (hence why they got into this post two times… but hey it's for Valentine's Day, I had to), and I enjoy FB's, my new fav urban chic hotspot downtown. Sounds like a great time, plus proceeds are benefiting the American Red Cross' Haiti efforts.