In planning tonight's ladies night, I came across a really fun fashion accessory designer! The designer's name is Leslie Schall and her designs are called "Flocktails."
We found her on Facebook and she sells her items on Etsy. They are super cute feather hair clips, which as I just mentioned in my Spring trend forecast blog, are very on-trend.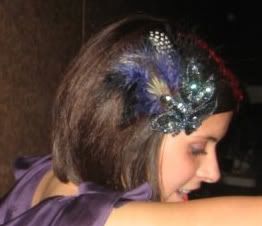 As someone with short hair, I struggle to find cute ways to spice up my look. I can't pull my hair back or to the side in a pony tail, and even headbands are sometimes too much. If they are too thick, it makes it look like my hair is slicked back and/or like I have no hair …. which isn't exactly a flattering look! : )
On the Flocktail Facebook page, they have pics of local ladies wearing the Flocktails out and about, and lots of the girls on there have short hair. These little bits of feathery flare look perfect with a short bob haircut!
We are having them at tonight's ladies night at the Wise Owl Wine Bar in West Chester (which, by the way, my cousin is part owner of!). I can't wait to see them there in person and maybe make some purchases! Oh, and my favorite mixologist Molly Wellmann will be there mixing up her couture cocktails.
Sounds like I have a night full of fun cocktails and flocktails ahead of me! Hope to see you there!