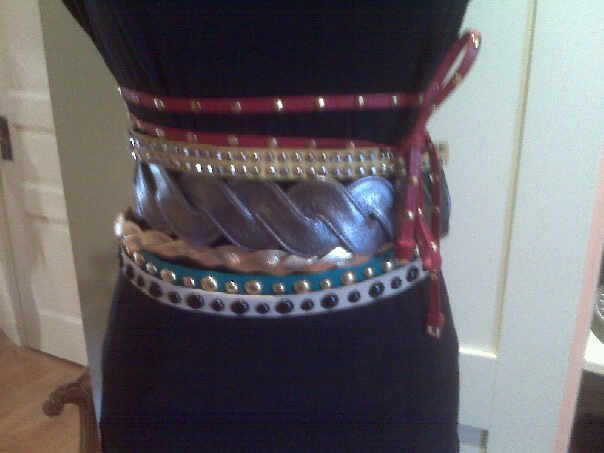 "Rocker Chic" …Normally I wouldn't think these things could coexist, but Amy, the owner of Soho Boutique in Hyde Park, changed my mind.
In November we did a holiday shopping/spring forecasting lunch 'n' learn where we brought in Amy, Richter & Phillips and Missy & Jack to talk about the trends. One of the trends Amy mentioned was this rocker chic.
I love to give trends a try, but I'm your average blonde haired, blue eyed American girl, so I can't exactly pull off spikes and mohawks. Well, Amy explained how to sprinkle in a little rocker onto your chic with these "B-Low the Belt" brand belts.
They're super skinny and studded. They come in all different colors (my favorite is the turquoise and gold, above).
They are on the pricey side ($80-$100), but every once in a while Soho will have a good sale. None that I know of coming up right now, but I do know they post sale info to their Facebook fan page and send out info via email (go to their site shopsohoboutique.com to sign up for the newsletter).
I would have never thought to pair a studded belt with this ruffled cocktail dress (left), but it gives it a completely new look. And I need this sweater/dress/belt combo (below). It's suitable for work, but it also looks super cozy and comfy…. with a little rocker flare. Perfect!
UPDATE: As luck would have it… I just received an email from Soho boutique announcing new Sunday hours and a sale for THIS SATURDAY (March 5). See below captured image from the email for more info on sale amounts and hours. Enjoy!