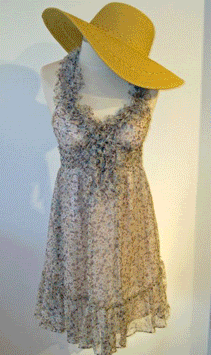 The other day my hubby, the in-laws and I went to dinner at Teller's in Hyde Park. We got an after-dinner coffee at Awakenings right down the block. On the way there, we passed Snap Boutique and they had the most adorable outfits in the window.
They were closed, but I did go online and "friend" them on Facebook and Twitter. We've written about them before in Cincy Chic, but I thought (for some reason) they were a teeny-bopper boutique and not for me. But after window shopping, I decided they were right up my alley, and I needed to stay up to date on all their new arrivals and sales!
Yesterday, Snap posted pics of their new Spring looks on their Facebook page and I am absolutely in love with each and every one of them. Just looking at them makes me a little warmer thinking about the spring-time sunshine, the smell of freshly cut grass and butterflies flitting about. (Which is much appreciated after last night's random snow fall… what was up with that?)
Even better, on the Facebook page, it says you will get 10% off your purchase of one of these new Spring dresses (pictured to your right) if you come in and purchase this weekend! You don't usually see discounts on new arrivals, and plus these are SUPER cute dresses, so I thought this was worthy of a blog post! I will definitely be visiting this weekend to see which dress looks best on! I will update if I make any purchases! : )
Come on SPRING!