On the first of April, I always second guess any good news and wonder if I'm going to be the butt of yet another April Fool's Day joke.
For good reason, too, as today my day started with a fake engagement announcement from a friend and my husband announcing on his Facebook page that he's going to be a dad (I've since had to clarify to a lot of people that I am, in fact, NOT pregnant).
So, when I got an email mid-morning asking if I'd like the opportunity to meet TLC's "What Not to Wear" star, Stacy London, today at 1pm, I was admittedly suspicious. I immediately thought it was a joke. Someone on my staff looked up the email author's name and contact info and determined it was a verified PR rep for the Pantene brand. So, I responded and said – as professionally as possible – "YES YES YES YES YES I'll be there! Oh… my ….God… She's my idol, I watch the show all the time, I love her I love her I love her!"
I happened to be working from home today (actually from my backyard because it was so pretty), so I jumped in the shower and then… dun dun dunnnn … stared blankly into my closet. I was meeting Stacy London, the sheriff of all Fashion Police. What to wear? Or more importantly, what NOT to wear?
I hadn't done laundry in quite a while, so the pickins were slim. But I decided on a strapless LBD with a lime short sleeve cardigan over top, classic black pumps and a chunky lime green necklace.
So, I get to P&G headquarters downtown and learn why Stacy is in town. She was filming a live webcast where she announced the next Pantene spokesperson. They announced that they are doing a call-out for Pantene users to submit a video of themselves and enter to win the opportunity to be the next Pantene spokesperson. Whoever wins will get to be a part of the world's first live reality TV ad.
They are doing this to promote their new customized Pantene products, which they claim are custom-built around your individual "hair personality." So, click here to submit your video and tell them about your hair personality that could make you the next Pantene spokesperson! And click here (you have to put in your contact info first FYI) to view the webcast that Stacy was in town for… um, just a warning, Bret Michaels randomly stars in this video too. I wasn't prepared for it and don't really understand it, but hey, I guess they figured women love dirty hot musicians so why not throw him in to make the big announcement. Apparently, the winner of this contest gets to go on tour with Bret… hmmm… good thing they'll have lots of Pantene on hand to sanitize themselves after being on THAT tour bus! haha!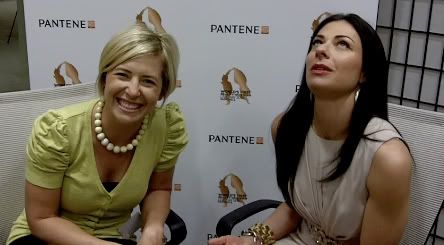 I did notice that they mention at the end of the webcast that you can go to pantene.com/freesamples to get free samples of the new customized Pantene products they just released. It'll take you to a page that lets you sign up for a P&G Everyday Solutions membership. I actually just signed up for this last month. One of my friends who works at P&G told me I needed to sign up and I love it. P&G sends you samples and coupons for all their new products. It's a free membership, so I definitely recommend it.
So, back to Stacy. I know you're probably wondering what she was like. Especially those of you who are HUGE fans of her show like me. I watch it all the time, I absolutely adore her and Clinton, and think the show is brilliant. I was hoping she was nice, because if not, I'd have to find a new hobby for my lazy Saturdays. Well, lucky for me and my laziness, she was extremely nice. The first thing out of her mouth was a compliment (said she liked my lime green cardi, by the way). She was very personable, and was really easy to talk to. She had a very BIG personality, was very animated and was really quick on her feet with jokes and jabs at Clinton.
I asked her if she was friends with Clinton before the show, because they seemed to get along so well, even in the first season. She said no, but she did meet him at auditions and they sparked the chemistry before ever walking in front of the producers, and they were fast friends from that day on. Actually, she explained the relationship as "brother and sister who have been stuck together on a long car ride." She loves him to pieces but they know how to get on each other's last nerve. I told her I had a brother nine years older, and could totally relate. She said Clinton was nine years older than her too. I nodded and smiled in belief, at which point, all her hair and makeup crew busted out laughing and promised to tell him she said that.
She was a blast to interview. I really had a great time and I learned a lot. She of course talked about all the new announcements Pantene had today, but I couldn't leave her without asking which Spring and Summer trends to keep an eye out for. And oh my goodness, after asking that question, it was like the flood gates of her brain opened up. She must have rattled off literally 20 Spring/Summer trends without blinking an eye. I got video of it all, and I think you'll really enjoy it. Check it out below!
[HTML1]