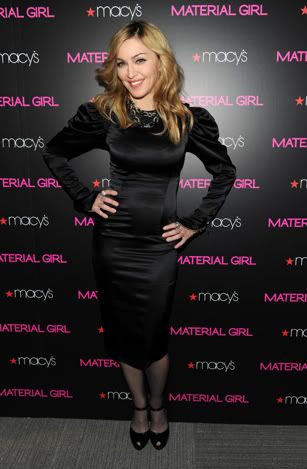 They can beg and they can plead
But they can't see the light, that's right
'Cause the boy with the cold hard cash
Is always Mister Right, 'cause we are
living in a material world
And I am a material girl
You know that we are living
in a material world
And I am a material girl
Bring back any '80s memories? Well, Madonna's "Material Girl" is bringing back the 80s in more ways than just a song. She's creating a new clothing line called "Material Girl" with her daughter, Lourdes.
They're launching a back-to-school apparel collection, and will also launch in various categories such as footwear, handbags and jewelry. In the Cincinnati area, it'll be available at the Kenwood Macy's.
I'm told apparel will become available (only in Macy's) on Aug. 3, and will retail from $12-$40. They plan to launch a fragrance too in 2011. Hmmm… wonder what Madonna will smell like?! : )
I'm super excited about this because I love love love Madonna. It's amazing that she has been such a huge star for such a long time! (Her arms are a little too muscley eek) But her sense of style has always been top notch because it's ever evolving. Well, it looks like Madonna has evolved yet again, and has gone in the direction of her "Material Girl" 80's roots (so the collection's name is quite fitting!).
I caught wind of Madonna's new collection yesterday and got the exclusive opportunity to share these sketches with you before anyone else could publish them! Let me know what you think, and which one is your favorite, in the comment section below! My fav is the floral print dress, but I do love the studded bag. I'd probably get both. But that's just because I'm a material girl!