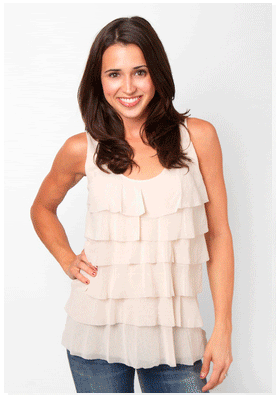 I'm not a mom, but I have lots of friends and family members with buns in the oven or little rugrats running around. And I just got word that I'll have a new place to shop for them very soon.
The boutique, which will feature clothing and accessories for moms and moms-to-be, will be located in Rookwood Commons with the adorable name "Hot Mama."
This will be the first Hot Mama store to open in Ohio, the 17th nationwide, with stores in six other states: Minnesota, Illinois, Colorado, Michigan, Wisconsin, and North Dakota.
Founded in Edina, Minnesota by Megan and Michael Tamte in 2004, Hot Mama and its internet site, shopmama.com, have been noted in magazines such as InStyle, Real Simple, Self and Pregnancy & Newborn.
Megan and Michael wanted to create an upscale boutique that serves as a fashion resource for moms by offering designer clothing and denim that fits a mom's age and lifestyle.  Megan and her team of buyers search the globe for clothing, jewelry and accessories that make women look and feel beautiful.
"We are excited to open our first Ohio store at Rookwood Commons in Cincinnati," Megan Tamte says. "Hot Mama fits nicely with the center's other retailers, including Anthropologie, DSW and Whole Foods."
Hot Mama will take 2,900 square feet next to Banana Republic.
UPDATE: Forever 21 just announced they're releasing a maternity line now too.