A few weeks ago, we did a swimsuit fashion show. Perfections Salon did the hair and makeup for all the models. My event planner, Libby Hodapp, said something to the stylist (Sarah Caudill) about the models' hair holding up so well to the heat and humidity. Which was surprising because it seriously felt like it was 200 degrees that day and the humidity was so thick it was tough to breathe!
Turns out Sarah did keratin treatments on a lot of the models' hair, which is why their lovely locks were behaving so well. One of the models in particular, Maria Swafford, had the keratin service done on her extremely curly, coarse and frizzy hair. Maria vouched for the treatment and told Libby that the treatment changed her life.
Libby really worked hard on that swimsuit fashion show, and hinted to me that she was curious to try out this keratin treatment … which, who knew, had life-changing potential! haha! Sooooo… what's a boss to do? Of course, I treated her to her first treatment!
The only trade-off is that I got to follow her process for my blog! I knew other people had probably heard of this keratin stuff before,  but didn't try it because of the cost (can range $300 to $500, depending on length and density of the hair being treated). So, here are all the deets about the process and Libby's results…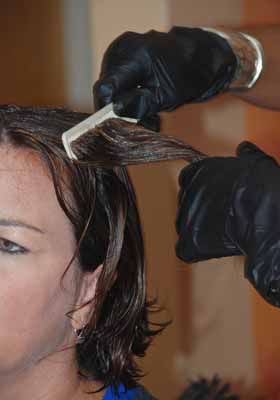 THE TREATMENT DAY
Right off the bat Libby got a drycut from Kenneth. They cut it first to give it the perfect style. Kenneth said without this step, any imperfections would be really visible once the hair is smoothed. (Think of keratin as laminating a piece of paper. Any wonkiness will show even more once the keratin is on)
I love love love her new haircut! Libby was a little freaked out that he took off so much, but I think it frames her face well and looks polished and professional.
After that, Sarah washed Libby's hair with clarifying shampoo to remove any product/chemical build-up. Then she applied the keratin smoothing treatment. I learned a lot about keratin in this process. I thought this was interesting… Since the product is not a chemical, there aren't timing or over-processing concerns (being a brunette-gone-blonde, I know oh too much about over-processing!).
When they put it on hair, it adds strength, elasticity and moisture back into dried up and frizzy hair. The smaller keratin molecules get inside the hair and work from the inside out. The larger molecules coat the hair, preventing damage from environmental bad guys like UV rays/water/heat. My dad is a science teacher… he'll be so proud that I just talked about molecules! haha!
Something else I should mention to keep an eye out for: not all keratin treatments are alike. Some keratin products out there contain formaldehyde or the cosmetic-grade formalin. So, make sure that where ever you go, ask if their keratin product contains any of these ingredients because they're carcinogens. I made sure Perfections doesn't have any of those things in their formula, so I don't need to worry about any lawsuits from Libby being exposed to toxins. : )
Ok, enough science talk. Next step was to blow dry Libby's hair to about 70%. Then, Sarah started a flat-ironing process. They had a special flat iron designed specifically for keratin treatments, and that sealed the treatment into the hair. And voila! Libby had beautiful, smooth, soft, sleek and shiny hair!
After a week, I asked Libby how things were holding up. She said it's awesome. Her blow-dry time was cut in half, and she barely, if ever, needs to use a straightening iron now. The only bad thing is that was wasn't allowed to wash or wet her hair for 72 hours after the service, and she had planned to be at the pool with her kids that entire weekend. So, keep that in mind if you do get this treatment… block your schedule for a few days. You can't get in pools, or wet your hair in showers for a few days.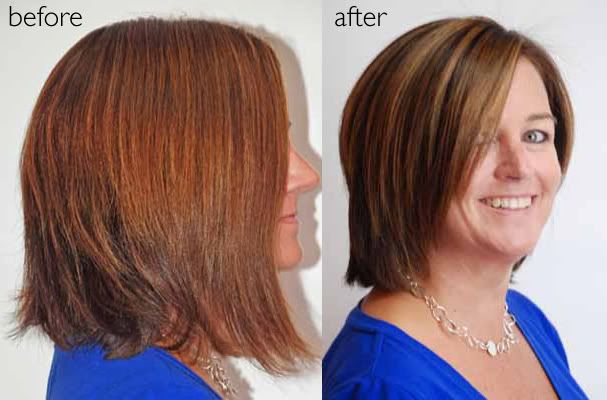 But she said it was worth it to have more manageable hair. She works full time – and has a baby and a toddler – so every saved second counts!
As a bystander, I can tell you that her hair doesn't look dry or coarse. It looks really shiny and healthy. I keep waiting for her to do that Pantene hair swish every time she walks by now. haha!
I hope this gives you a little insight into a keratin treatment! Perfections Salon is actually a client of ours at Cincy Chic, so I'm sure they'd love for you to call them (513.984.2555) if you want to get a keratin treatment for yourself. But no matter where you go, remember to ask about those ingredients I mentioned so it's a happy and healthy keratin experience! And ask about the down-time too, I hear that can vary. Feel free to email me at astorer at cincychic dot com and tell me about your keratin experience where ever you go. I'd be interested to hear how other people like it!
*After I posted this, I got a question from a friend asking how long it lasts. According to this site, it softens curls/waves for up to three months, and keeps it conditioned for about six months.