Last night my Cincy Chic team and I hosted a big fall fashion ladies night at Eddie Merlots. We had a fall fashion show and Paris J Boutique did all the clothing. The show featured a bunch of fall clothes that haven't even hit their shelves yet, so it was neat to see it all (I'll update this post with a link to event photos when I get them, so check back!)
It was a great event. Fab fashion. Yummy food. Delicious drinks. About 100 people came… including my husband, Pete, who usually has to be on the early news in Dayton, but he had off today so he came last night!
Teresa, the owner of Paris J Boutique, was very happy with the turnout and with Cincy Chic as a whole. So much so, she said she had a surprise for me and to visit her boutique today. Hmmmm… the wheels got turning… what could it be???
Sherlock Storer-Scalia was on the case. I thought back and I had just commented on a few items of new arrivals she posted to Paris J's facebook page. I remember "liking" and commenting on a couple dresses and shoes she had posted.
Also, Teresa had sent me a random email the day prior asking me what shoe size I wore. But I thought it was because I post pics of my shoes all the time, and I kind of have big feet, so I thought she was wondering exactly how big they were! haha! (I wear a 9 and am 5'4… but my mom wears an 11, so I shouldn't complain… It could be worse!)
I literally lost sleep wondering what the surprise would be… visions of sugar plums and stilettos dancing in my head… I get to her store today and she had a gift bag all made up for me. Inside that bag… I FOUND THIS FABULOUSITY!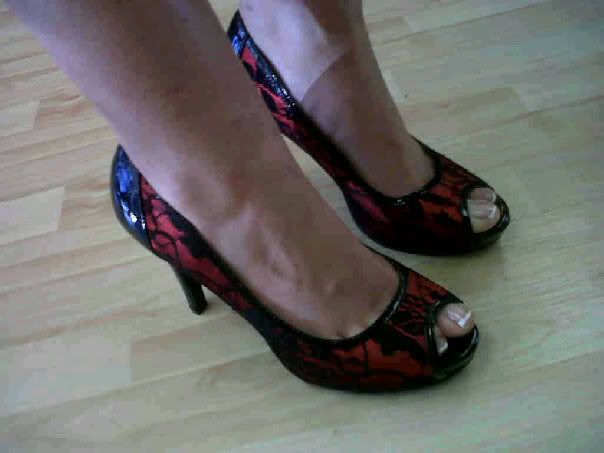 Aren't they gorgeous? I love them!!!! And she got me another gift but it's an accessory, which I will wait to tell you about on Monday for Marvy Accessory Monday! I'm so in love with my new items and I can't thank Teresa enough for them! A girl after my own heart, giving me shoes! : )
Have a great weekend! Enjoy this gorgeous weather!