Hot, Hot, Hot!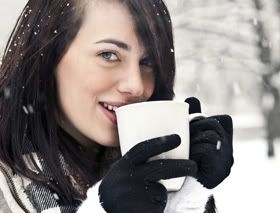 Three easy ways to warm up this winter

Baby, it's cold outside. But we up that classic duet to a terrific trio with three easy ways to heat things up. So read on to find out how you can trade in your frigid shivers and make a winter wonderland of your own.
Calling Nominees: 2010 Woman of the Year Awards
It's time to recognize Cincinnati's wonderful women. Find out how you can nominate the women who inspire you and help Cincy Chic award them the credit they deserve.
HoneyBaked for the Holidays
As a family owned business, The HoneyBaked Ham Company is geared toward feeding your family. Learn more about how they can help with holiday feasts or just a quick lunch.
New Store Spices it Up
A brand new store in Rookwood helps you add a little spice to your dish and a little tea to your kettle. Read on to find out why you won't want to miss out.
The Gym that Comes to You
The weather outside may be frightful, but with this local fitness option, your workouts can be delightful — in the comfort of your own home. Discover how you can start having your gym show up at your door.
Fiery Profession
It's warm. It's inviting. It's romantic. It's a fire place. And one local man helps make it a reality for homes and businesses around the Tri-State. Find out about how he is lighting the way for the industry.
The Hottie Underneath
Two local ladies just launched a line of lingerie they say can heat up any woman's sex appeal. Read on to find out more about the new designs from these two best friends.
A Different Kind of Little Black Book
You probably don't want your man looking in his little black book. That is of course until you read this story. Find out about one little black book you won't mind him peeking at.
Chic Spotlight: Recipe Contest Winner Nadine
One local woman's knowing her way around a kitchen brought her to meet culinary stars and taste celebrity chefs' creations. Read on for an exclusive interview with this cooking queen.
Vine + Table: Heating up a Cooking Class
Learning how to cook gourmet doesn't have to be complicated. Just head up the hill to Midwest Culinary Institute for an exciting series of affordable, hands-on cooking classes.
Orange on Green: Heat up Your Savings
You need more than a spark to keep a fire going, so our financial columnists share one important ingredient to sustaining your financial fire.